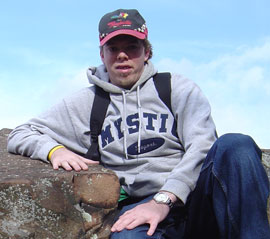 Bio and vital statistics:
Name: Chris
Age: 28
Geographical Area: Western Massachusetts
Married: Not yet
Profession: Computer repair and support technician.
Hiking experience: 5 years of serious hiking. WFA course level 1.
Skiing experience: Since I was about 4, I think. Ask my dad, he's the one who strapped me to those planks in the first place and shoved me down the J-Bar trail. Lol.
Home ski mountain: Mt. Tom, Holyoke, MA. But they closed <sniff sniff> Now I call Blandford my home. It is the oldest ski club in the US I beleive (Springfield Ski Club) It is a WONDERFUL family mountain, and being a club, it's good that you can get to know everybody on a more personal level than your larger "corporate resorts"
Home hiking area: The Mt. Tom & Holyoke Ranges in Massachusetts. I know them like the back of my hand. On a really hot day, or a day where I am being lazy, you will find me out there.
Club memberships: International Mountain Bicycling Association, Appalachain Mountain Club Please support local/regional clubs like these, they help find a balance between natural preservation and recreational usage.
My ride: Purchased a brand new Subaru WRX Wagon for carting me around in the snowy wintertime and gravely summertime backroads.
Favorite Ski Runs: Flume - Loon mtn, 2-miles-home - Bretton Woods, Lucifer - Magic Mountain, Racing Trail - Blanford, Anything at Cranmore other than Koessler
Favorite Hike: Honestly I really don't have "1". The joy of hiking is to be able to take multiple routes to the same destination. I'd have to say the best "destination" is Tekoa Moutain in Westfield, MA. Great view, quiet, steep. I prefer to hike in the Fall, when it is cool and the views are good.
Personal interests: Electronic Gidgety-Gadgets, nature, nature preservation, automobiles, hiking, skiing, geology, and history (Dark Ages, ancient, and geological)
Dream Hike: Mt. Washington